The "Internet Marketing Lead Generation Ecosystem" infographic below was created by the Chicago SEO agency, Straight North. Its purpose is to serve as a blueprint to demonstrate how multiple online marketing channels can be joined to create one online lead generation campaign.
It's interesting how well this framework correlates with the WPO model in terms of driving new (i.e., "pre-CRM") website traffic. With just a slight rearrangement of the hexagons, the traffic sources line up like this:
The search, social, and display (paid) channels are straightforward. The "Off-Site Content" container in the ecosystem model expands upon social PR efforts (media coverage, influencer outreach, bylined articles, and guest posting) to include social content.
And "Referral Sites" in the ecosystem framework are a superset of influential third-party sites that can also include industry analysts and academic websites.
But while the WPO model focuses primarily on driving new website visitors, the ecosystem model extends further by incorporating conversion rate optimization (CRO) and "post-CRM" (lead scoring, lead nurturing, and sales followup) processes as well.
The infographic below can help marketers:
Understand how multiple Internet marketing channels can be combined to create an effective online lead generation campaign;
Pinpoint problems in your current campaign that can possibly cause you to lose leads, and
Develop new ways to improve and scale your current campaign.
The top row of hexagons show the numerous online outlets that can be used to drive traffic to your website. The middle section of hexagons highlights the reporting, contacting and lead validation process, which should be managed by more experienced internet marketers. And, the bottom portion of the infographic shows the leads collected become a new customer.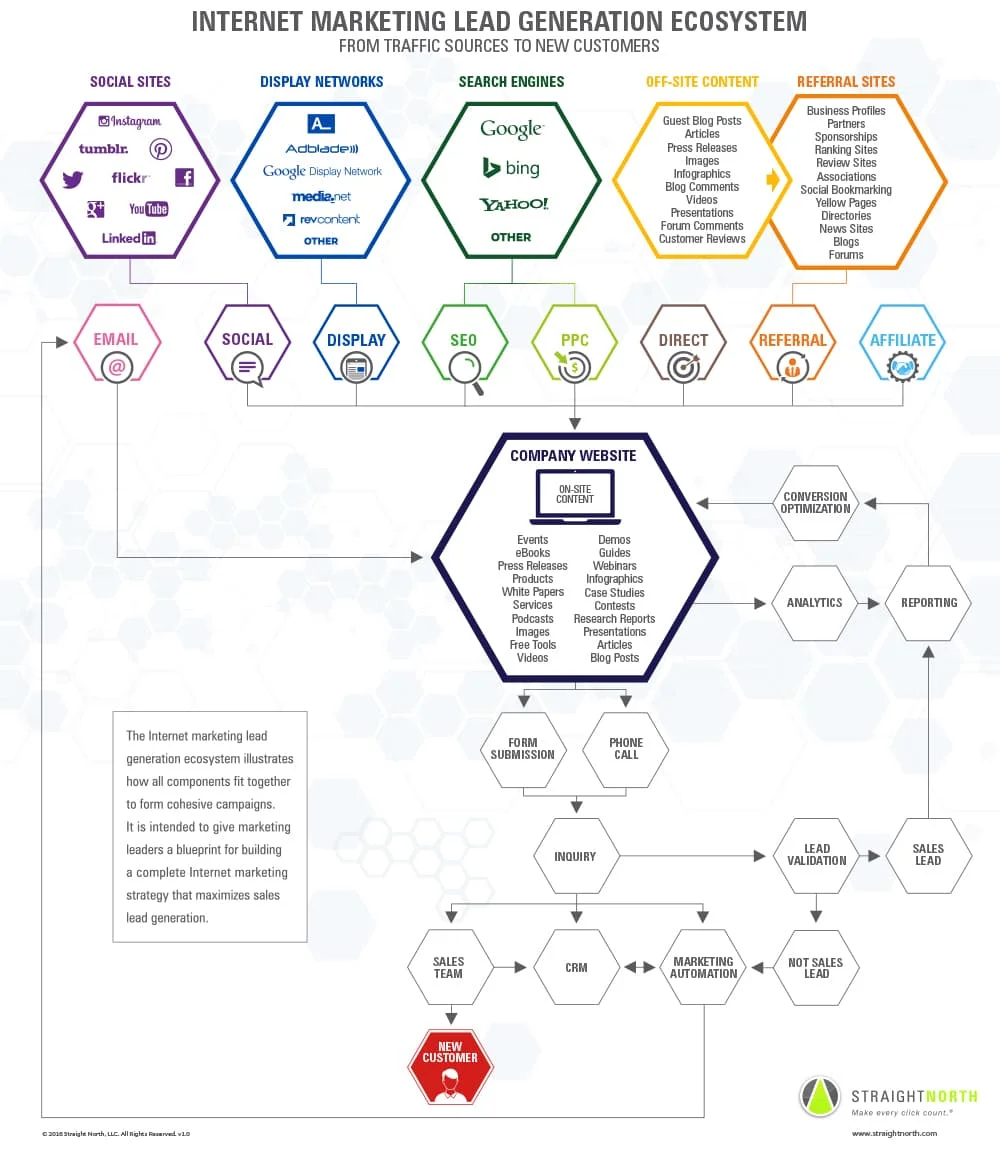 Brad Shorr, director of content strategy at Straight North, contributed to this post.